Details

Written by Pantelis
Σε μια ακόμη προσπάθεια να καλύψει το χαμένο έδαφος έναντι των ανταγωνιστών της στην παγκόσμια αγορά υπολογιστών-ταμπλετών, η Microsoft παρουσίασε το νέο μοντέλο Surface Pro 3, που διαθέτει μεγάλη οθόνη 12 ιντσών (διαγώνιος 30,5 εκατοστών) 2160 x 1440, και έτσι, σύμφωνα με την εταιρεία, ουσιαστικά αντικαθιστά τους φορητούς υπολογιστές (Laptop). Η νέα ταμπλέτα, που ζυγίζει 800 γραμμάρια, είναι μεγαλύτερη, πιο λεπτή (πάχος 0,9 εκατοστών) και με ισχυρότερο επεξεργαστή σε σχέση με τα προηγούμενα μοντέλα της σειράς Surface Pro, ενώ απευθύνεται σε χρήστες που θέλουν τόσο να εργάζονται, όσο και να ψυχαγωγούνται,
Η ταμπλέτα «τρέχει» το λειτουργικό σύστημα Windows 8 σε επεξεργαστές Interl Core i3, i5 ή i7, η μπαταρία της διαρκεί εννέα ώρες, ενώ διαθέτει και ηλεκτρονική «πένα» με την οποία ο χρήστης μπορεί τόσο να γράψει πάνω στην οθόνη, όσο και να ενεργοποιήσει από απόσταση το μηχάνημα
Details

Written by Pantelis
Προσοχή. Το τελευταίο update της εφαρμογής του Facebook, το οποίο απαιτεί πρόσβαση στο μικρόφωνο της συσκευής σας, θα του επιτρέψει, μεταξύ άλλων, να ακούει τις συνομιλίες σας.
Το Facebook μόλις ανακοίνωσε μία νέα υπηρεσία στην ανανεωμένη έκδοση της εφαρμογής του για τα κινητά τηλέφωνα και τις λοιπές συσκεύες iOS και Android. Οπως επισημαίνει, θα βοηθά και θα χρησιμοποιείται για την αναγνώριση ενός τραγουδιού ή μιας τηλεοπτικής εκπομπής.
Στην πραγματικότητα όμως το μέσο κοινωνικής δικτύωσης μετατρέπεται σε έναν Big Brother καθώς έχει τη δυνατότητα να ακούσει τα πάντα - συμπεριλαμβανομένων και των ιδιωτικών σας συνομιλιών – και να να τα αποθηκεύει μέχρι... νεωτέρας.
Η νέα αυτή υπηρεσία θα ενσωματωθεί σε όλες της iOS και Android συσκευές μέσα στις επόμενες εβδομάδες.
Για τραγούδια που αναγνωρίζει, θα πραγματοποιεί προεπισκόπηση 30 δευτερολέπτων, ενώ για τις τηλεοπτικές εκπομπές θα ενημερώνει ποια είναι η σεζόν και ποιο το επεισόδιο το οποίο παρακολουθείται.
Το Facebook τόνισε ότι το χαρακτηριστικό είναι opt-in και ότι η εφαρμογή «ακούει» μόνο για σκοπούς αναγνώρισης και όχι για την εγγραφή ήχου.
Ωστόσο, το Facebook προφανώς θα καταγράφει και θα αποθηκεύει τα δεδομένα, τα οποία σε κάποιο σημείο, είναι βέβαιο ότι θα χρησιμοποιηθούν για διαφημιστικούς σκοπούς.
Από thetoc.gr
Details

Written by Pantelis
Power supplies for pc,
Power supplies are responsible for feeding clean, stable juice to the sensitive components inside your PC. Calling it one of the most important components you'll buy is not an overstatement.

Choosing a power supply


There is no single, universal rule for selecting a high-quality power supply.
Nevertheless, various indicators provide circumstantial evidence of PSU quality,
and some guidelines are generally helpful. First, always buy a power supply from a
reputable manufacturer, and look for reviews of it before you buy. Avoid cheap,
generic power supplies, which tend to be substandard. Look for reputable brands
that offer solid warranties and support. Corsair PSU, be quiet! PSU, and Antec PSU are three manufacturers
with reputations for producing high-quality power supplies, though even they may offer a few duds among all the studs.
Details

Written by Pantelis
Θύματα μιας καλοστημένης απάτης φαίνεται ότι έπεσαν δεκάδες χρήστες του internet. Σύμφωνα με καταγγελίες που έφθασαν στην Δίωξη Ηλεκτρονικού Εγκλήματος, οι υπεύθυνοι της εταιρείας www.shop22.gr που δραστηριοποιούνταν στο χώρο της πώλησης ηλεκτρονικών αντικειμένων (κινητών τηλεφώνων κλπ) μέσω διαδικτύου, μάζεψαν ένα σεβαστό χρηματικό ποσό και εξαφανίστηκαν εν μία νυκτί, αφήνοντας τους πελάτες τους να περιμένουν τις παραγγελίες τους!
Γι αυτό και όταν κάνετε πράξεις ηλεκτρονικών αγορών (η αγορές μέσω διαδικτου είναι "must" γιατί είναι ασύγκριτα φθηνότερες) πρέπει να προτιμάτε γνωστά και οικεία site με όνομα και διεύθυνση. Ποτέ μην αγοράζεται από αγνώστους...
Οι πελάτες-θύματα προσέφυγαν στην Δίωξη Ηλεκτρονικού Εγκλήματος ζητώντας την ανεύρεση των απατεώνων, ωστόσο σύμφωνα με την νομοθεσία εάν δεν υπάρχει κακούργημα δεν μπορεί να φυλακιστεί κάποιος – ακόμη και αν εντοπιστεί.
«Αν τον βρούμε θα οριστεί τακτική δικάσιμος και αν δικαστεί…» απάντησε η ΔΗΕ.
Μάλιστα, διευκρίνιζαν ότι αν η υπεξαίρεση αφορά ποσό κάτω των 30.000 ευρώ, τότε δεν μπορεί να παρέμβει ο Εισαγγελέας. Με άλλα λόγια, οι αετονύχηδες, αν είχαν υπεξαιρέσει ποσό 29.000 ευρώ από τους ανυποψίαστους πελάτες-θύματα, μπορούσαν να διαφύγουν ανενόχλητοι χωρίς εισαγγελική δίωξη.
Το κόλπο των επιτήδειων ήταν απλό: Είχαν στήσει ιστοσελίδα και διαφήμιζαν προϊόντα που έφερναν από το εξωτερικό σε άκρως ανταγωνιστικές τιμές.
Η αναμονή ήταν περίπου 20, ημέρες καθώς τα προϊόντα έφθαναν από το εξωτερικό.
Σύμφωνα με πληροφορίες από θύματα της απάτης, η εταιρεία επικοινώνησε μαζί τους μέσω e-mail την Παρασκευή 16/5 και τους πληροφόρησε ότι το προϊόν που έχουν παραγγείλει θα παραδοθεί την Δευτέρα 19/5 σε συγκεκριμένη ώρα, μέσω εταιρείας courier, ζητώντας μάλιστα και συγνώμη για την καθυστέρηση!
Όμως την Δευτέρα, το site είχε κλείσει «λόγω εργασιών συντήρησης», το σταθερό τηλέφωνο μιλούσε διαρκώς και το κινητό που είχαν δώσει στους πελάτες ήταν κλειστό. Και φυσικά, τα προϊόντα ουδέποτε παραδόθηκαν. Ανήσυχοι οι πελάτες, άρχισαν να αναρωτιούνται στην σελίδα του www.shop22.gr στο facebook, ωστόσο το βράδυ της Δευτέρας «κατέβηκε» και αυτή.
Τμήμα Ειδήσεων defencenet.gr
Details

Written by Pantelis
Gigabyte Ultra Compact Mini-PC / HTPC GB-XM12-3227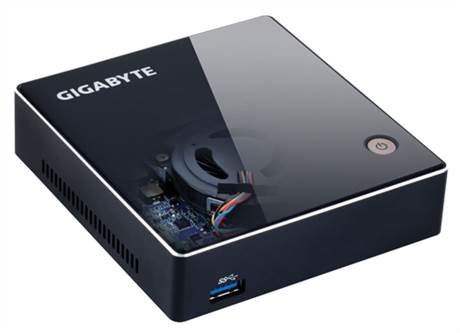 The BRIX from GIGABYTE is an ultra compact (29.9 x 107.9 x 114.6 mm) and versatile DIY PC kit available with a broad choice of processors covering a range of performance points. The BRIX redefines the desktop PC in terms of miniaturization with a form factor that sits in the palm of your hand. Ideal for compact HTPC builds or as a standard desktop in the home or office, the BRIX doesn't hold back in terms of display and peripheral connectivity, or raw performance.
Supports dual display video output via HDMI and mini DisplayPort.
Includes 802.11n Wi-Fi Mini PCIe module.
Includes VESA bracket for discreet display and wall mounting.
Dimensions: 29.9 x 107.9 x 114.6 mm.
Redefining the Desktop PC
Challenging the essence of how we define a desktop PC, GIGABYTE engineers have developed an ultra compact PC with a stylish design based around an anthracite aluminum frame and glass surface chassis. Ideal for a broad range of computing applications at home or in the office, the BRIX expounds sheer simplicity and convenience. With a broad choice of processors covering the entire performance spectrum, the BRIX sets a new standard for desktop miniaturization that makes it perfect as a discreet HTPC/multimedia hub, an ultra-low power PC for the family, an office PC or as a digital signage unit.
Dual Display
With support for HDMI and DisplayPort, the BRIX can power two displays simultaneously, making a perfect choice as a high productivity PC in professional and home environments, or in any number of industrial and commercial multi-display applications.
Flexible Compact PC Kit
The BRIX is sold as a DIY PC kit, shipping with a Wi-Fi Mini PCIe module pre-installed, plus a power adapter and cable conforming to local standards. Requiring only system memory and mSATA SSD, the BRIX gives users the flexibility to independently choose integrated storage and system memory size, without the trouble of sourcing components that are not widely available on the retail market.
Details

Written by Pantelis
Get the best entertainment on your HDTV.
Stream hit movies, view the latest viral videos, catch up on shows, stay connected to your social network, and watch highlights from the biggest games of the season. Don't settle for online entertainment on your small computer screen. With WD TV Live, you can enjoy it all on your HDTV.
Your media collection belongs on the big screen.
Enjoy your media library, home videos, vacation slideshows, and favorite songs on your HDTV and sound system in your living room. Sit back and enjoy the spectacular picture quality of Full-HD 1080p.
Play virtually any media file format.
The WD TV Live supports a wide variety of the most popular files including MKV, MP4, XVID, AVI, WMV, and MOV video formats. Get the freedom to enjoy your media now, in virtually any file format.
High-performance, streaming-ready Wi-Fi.
Includes the latest wireless technology - extended-range
Wireless-N - giving you the speed you need to stream HD.
Enjoy media from any source.
Stream videos, music, and photos from your USB drive, network drive, and any PC or Mac computer in your home. Our media library collects the content from all the drives, so finding the perfect video, song, or photo to view is easier.
Show photos and movies directly from your digital camera or camcorder.
Connect your camcorder or digital camera directly to the media player using one of the USB ports, and instantly view or archive HD video and photos without a PC. Works with any digital imaging device that supports Picture Transfer Protocol.
Turn your smartphone or tablet into a touch-screen remote.
Control your WD TV experience with the swipe of a finger using the WD TV Remote app. Great for text input when logging into a service and searching for a movie or video. One-touch access to your favorite online services. Download the free app from the Apple iTunes store or the Android Market.
HDMI and composite video output.
The HDMI port lets you connect to the highest quality HDTV or home theater. Additional composite (RCA outputs) ensure compatibility with virtually all television
SPDIF digital output.
The optical audio output sends digital signals to your AV receiver for the best surround sound experience.
Details

Written by Yiannos Stephanou
The new ultra-portable Galaxy Note 8.0 is revolutionizing business

Recently Samsung introduced two versions of the Galaxy Tab 3, 10.1 inch version and 8.0 inch version. The Galaxy Tab 3 8.0inch is a model that slots itself in between the regular sized 7inch tabs and large sized 10.1inch tablet. Like 7inch tablets, even 8inch tablets are comfortable to use as it can be used single-handedly.


Let's talk about the specs of the new 8inch Galaxy Tab 3. The device is powered with Android 4.2 Jelly Bean OS. The 8inch display supports 1280 x 800 pixels resolution. The performance of the tab is quite thanks to the 1.5GHz dual-core CPU (Intel Atom Z2560) and 1.5GB RAM.
Like the new Galaxy Tab 3 10.1, even the 8inch tab comes in two variants 16GB and 32GB. At the rear, there is 5MP camera and at the front there is a 1.3MP camera for video calling. It comes with a microSIM compartment, which lets you access 4G, LTE connectivity through the cellular network. The external memory onboard allows you to use up to 64GB of microSD. It is also powered PowerVR SGX544 GPU.
Again, the design of the both tabs released recently by Samsung appears quite similar to each other. Like the 10.1 inch tablet, it comes with a button on the bottom part of the bezel. The device appears very sleek. The appearance of the device is also similar to Galaxy S4 thanks to silver and white colored body.
Frankly speaking, Samsung has to do something about the appearance of the Galaxy Tab devices because they do not appear interesting any more. However, the USP of the Galaxy Tab 3 8.0 inch is the size of the device which makes it possible for you to use the device with one hand. The device measures 8.26 x 4.87 x 0.29 inches and weighs 314g.
Some of the other features of Galaxy Tab 3 8.0 include Wi-Fi, Bluetooth 4.0, Infrared, MHL slot, aGPS and GLONASS and a powerful non-removable 4450mAh battery. Rumors have it 3G and 4G models of the tablet will be made available.
Some may confuse Galaxy Tab 3 8inch with Galaxy Note 8. The latter comes with S Pen features which are not available with the newly announced 8inch tab.
Details

Written by Yiannos Stephanou


With its latest flagship Xperia devices, Sony has carved out a foothold in the premium smartphone and tablet spaces with inspired designs and impressive performance. The Sony Xperia Tablet Z looks like a stretched out version of the admirable Xperia Z smartphone. It's remarkably thin and light, packs in a sharp display, and pumps out top-notch performance thanks to its speedy quad-core processor. On top of that, you get a fully waterproof design, microSD expandable memory, and a built-in IR emitter for TV remote control abilities. The Xperia Tablet Z is among the finest Android tablets available, and is a worthy alternative to top-end tablet.
Performance and Android
The Xperia Tablet Z is powered by a quad-core 1.5GHz Qualcomm Snapdragon S4 Pro processor with 2GB RAM. This is the first tablet we've tested with this setup, and it didn't disappoint—the Tablet Z scorched our benchmarks, recording some of the highest scores we've seen across the board. From rapidly switching between multiple running apps to playing graphically intensive games like Real Racing 3, the Tablet Z handled everything we threw at it easily. Sliding between widget-loaded home screens and scrolling down media-heavy websites was smooth, with very rare choppiness. This is one seriously fast tablet.
Sony's Android skin falls somewhere between Asus's minimal modifications and Samsung's heavy-handed skinning. Luckily, beyond the cosmetic adjustments, there are some genuinely useful additions here. On the home screen, you'll notice two major differences between Sony's version and stock Android. The first is a bar along the top that holds four customizable shortcuts, a Google search and voice command shortcut, and an app drawer launcher. I really like the shortcuts along the top, as they allow me to keep my home screens a bit less cluttered, while always keeping my most important apps on hand. The second modification is Sony's multitasking 'small apps.' These run in little windows on top of whatever current app you're running, and include a browser, calculator, notepad, clip manager, timer, recorder, and remote control. You can download more Sony-compatible small apps, from Twitter clients to camera apps, and also turn any widget into a small app. I found the small apps pretty useful, though they fall a bit short of the split-screen multitasking you get on the Galaxy Note 10.1.
Details

Written by Yiannos Stephanou
When many people think of gaming, they automatically think of gaming consoles. And, sure, many households have at least one (if not all) of the three major gaming consoles available: the Microsoft Xbox 360, Sony Playstation 3, and Nintendo Wii. But for a truly connected and immersive gaming experiences desktop PCs reign supreme. Gaming PCs are more upgradable than laptops, and it's still easier to install expansion packages to PC games than on consoles. There are vast online communities dedicated to modifying games to get desired results ('mods'). You need to use a PC for the best in 3D gaming, and you simply can't get all the new gaming bells and whistles unless you have a high-powered gaming PC. That said, you don't necessarily have to buy the most expensive desktop to play the most popular games.
Design Matters
Gaming PCs used to be humungous behemoths that took up a lot of space underneath your desk. You can still buy one of these monoliths, especially if you're interested in a multi-graphics card setup (more on that later). However, more modest mini-towers, all in one PCs, and small form factor PCs are certainly powerful enough to play all but the most strenuous games at the highest screen resolutions. Small form factor PCs and all in ones have the added benefit of being portable, in case you're on the way to a social gaming session at a friend's house or a rented hall somewhere.
CPU: The Gaming PC's Heart
The gaming developers all post what their minimum requirements are for their games. Popular games like World of Warcraft list old-school single-core processors like the 1.3GHz Intel Pentium 4 or AMD Athlon XP 1500+ as minimum, but you really don't want to play at "minimum" on a new PC. Likewise, ultra low power (ULV and CULV) -core AMD and Intel processors are best left to being Web-browsing secondary PCs in your house. You can play simple games including role-playing games (RPGs) like Torchlight and casual games like Diner Dash or Plants vs. Zombies on a modest dual-core AMD or Intel processor.
If you're more serious about your gaming, look for a faster dual core or true quad coreAMD A or Intel processor, so you can play today's games and tomorrow's. First person shooter games will work fine on mid-level dual or quad core PCs, but if you tend to buy the latest game as soon at it is released, look at quad-core processors like the Intel Core i5/i7 or the six-core AMD Phenom II X6. Multi-core processors will pay off on games that tout "realistic physics" or "class leading visuals," but for the most part four or more cores help multimedia tasks more than gaming. Some processors are touted as being "quad-core class". This translates to: "dual core processor with better multi-thread handling". Strangely enough, these processors work fine as gaming platforms, as long as your GPU is strong enough.
System Memory and Storage
Memory is cheap these days. Buy at least 4GB of RAM. Use whatever speed is recommended for your system (DDR2-800, DDR3-1333, etc.)—end of story. For storage, getting a 500GB hard drive should only cost a few extra bucks compared with a standard 320GB one, and will hold many games. You can get a system with one or more solid-state drives (SSD) instead of a spinning SATA hard drive, but they are very expensive on a Gigabyte-per-dollar basis (around $300 for a 256GB SSD versus $60 for a 1TB SATA hard drive). If you're really impatient, the SSD can dramatically decrease loading times and reboot times (seconds vs. minutes), but for now they're not worth the added expense unless you're flush with cash.
Graphics Muscle
Just about every one of the PC reviews on pcmag.com lists integrated graphics as bad for gaming. This is for the most part true, but integrated graphics like Intel HD Graphics 3000 and ATI Radeon HD 6450 can handle limited 3D gaming. These graphic processors (GPUs) are certainly powerful enough to handle most casual games like Diner Dash, Farmville, and even light 3D games like Torchlight, Sims 2/3, and Spore. Getting a single high end GPU like the ATI Radeon HD 6670 or Nvidia GeForce GT 560 Ti is enough to play high end games like Crysis, Lost Planet 2, or the latest graphics masterpiece at moderate screen resolutions (1,280 by 720 in our standard tests).
If you want to max out your 3D performance and likely send your credit card cowering, then you can upgrade to two or three high-end graphics cards like the ATI Radeon HD 6990 (with CrossFireX) or Nvidia GeForce GTX 590 (with SLI). These highest-end graphics card will add over a thousand dollars to your final price, but then again these highest end PCs are the gaming equivalent of a million dollar supercar.
Make sure you buy one of those 24 to 27-inch 120Hz high-resolution 3D-capable monitors to make your multiple GPU system worth it. I'm still unsure about the viability of stereoscopic 3D in the gaming PC market, but you will be prepared if 3D ever takes off. Just be forewarned that stereoscopic 3D usually requires you to use 3D glasses. You may never use the system to its highest potential, and there will be something faster in 6-9 months, but you can tell your friends you have arrived in the upper strata if you buy one.